Samford battled, but came up short in Saturday night's contest, falling to Tennessee Tech by a score of 59-58 in 2OT.
The Bulldogs scored 24 unanswered points to break away from the Golden Eagles in the first half, but a formidable comeback from Tennessee Tech, a squad that went 1-10 in both 2017 and 2018, forced the game into two overtimes where they eventually emerged victorious.
Tampa product and USF Transfer quarterback Chris Oladokun starred for the Bulldogs, passing for a total of 428 yards and 6 TDs with only five incompletions on the night. Oladokun also ran the ball 7 times for 42 yards and 1 TD.
Sophomore running back Demarcus Ware chipped in with 71 yards on 18 carries.
The initial portion of the first quarter was one to forget for Samford as they struggled mightily on both sides of the ball.
Tennessee Tech freshman running back Metrius Fleming broke loose on multiple runs, allowing the Golden Eagles to gain a 10-0 lead after just over nine minutes of gameplay.
The Bulldogs performed sloppily on special teams as well, as senior wide receiver Yassar El-Amin muffed the ball on a kickoff return and was tackled at the Bulldogs own 4-yard-line, setting up an eventual sack and safety on junior starting quarterback Liam Welch.
Welch had his first three drives halted by multiple three-and-outs and a safety, increasing Tech's lead to 12-0.
Coach Chris Hatcher subbed in Oladokun much earlier in the game compared to last week, and it proved to be a solid decision for the Bulldogs.
Oladokun went 3-3 on his first drive, capping off his first touches with a 35-yard touchdown pass to sophomore WR Kendall Watson. In just over two minutes of gameplay, the Bulldogs drove 92 yards on 6 plays to make the game 12-7.
Oladokun's very next drive lasted under a minute and was highlighted by an 80-yard touchdown pass to El-Amin, giving the Bulldogs a 14-12 lead early in the second quarter.
The Bulldogs' lead was extended to 17-12 after a 37-yard field goal by pre-season first-team SoCon selection Mitchell Fineran.
Oladokun's third touchdown pass, a 64-yard bomb to senior WR Chris Shelling, extended the Bulldog lead to 24-12 just before halftime.
Oladokun went 8 for 10 for 224 yards and three touchdowns in the first half as the Bulldogs brought a 12-point lead into the locker room.
At the start of the second half, it took Oladokun just over 2 minutes to find the end zone again, this time on a scamper from nine yards out, giving Samford a 31-12 lead.
A 32-yard field goal from Tech K Haidar Zaidan ended a run of 31 unanswered for the Bulldogs.
Samford responded almost immediately with Oladokun's fourth touchdown pass of the game, a 30-yard toss over the top of the secondary to Shelling, making it 38-15.
On Tech's next possession, Golden Eagle QB Bailey Fisher scored his first rushing TD of the year to make it a two-possession game once again.
By the end of quarter three, Oladokun had passed for 4 TDs and 336 yards, completing 14 of his 17 attempted passes.
The Bulldogs extended their lead to 41-22 on a 40-yard Fineran field goal at the start of the fourth.
As the Golden Eagles responded with another long drive capped with a short TD pass for six, they were incapable of converting a 2-point try and the score remained 41-28.
After another Fineran field goal for Samford, the Golden Eagles scored another touchdown and converted on the 2-point try, making it a one-possession game.
Tech followed up the touchdown with an onside-kick recovery, needing to travel 52 yards and convert another 2-point try to even the score at 44.
They accomplished this feat and tied the game at 44 thanks to stellar play from QB Bailey Fisher as he added another rushing TD to his tally and ran in the 2-point conversion by himself.
As overtime began, Tech struck first when Fisher ran six yards for a TD, but the Bulldogs immediately responded with another passing TD from Oladokun to Shelling.
Samford started the second overtime with the football and scored on yet another TD connection from Oladokun to Shelling, the fourth of the contest.
Tech responded again, this time on an Andrew Goldsmith rushing TD from 14 yards out. Fisher completed a pass to a wide-open David Gist on the 2-point conversion to seal the deal for the Golden Eagles.
Samford fought all night long, but were incapable of closing out the game in the end. The Bulldogs will enter their bye week with a record of 0-2.
Samford will return to action in Spartanburg, South Carolina on September 14 as they travel to face Wofford. The game's start time is currently set for 5 PM and can be streamed on ESPN+.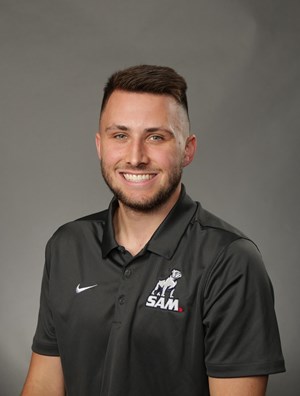 Gunnar Sadowey is the sports editor for the Crimson. He is a senior from Elkhart, IN. Gunnar is currently a journalism and mass communications major with a print concentration and a German minor.