Several businesses have been under construction in the Wildwood area of Birmingham along Lakeshore Parkway. Among these include a movie theater, fast-food restaurant and an apartment complex.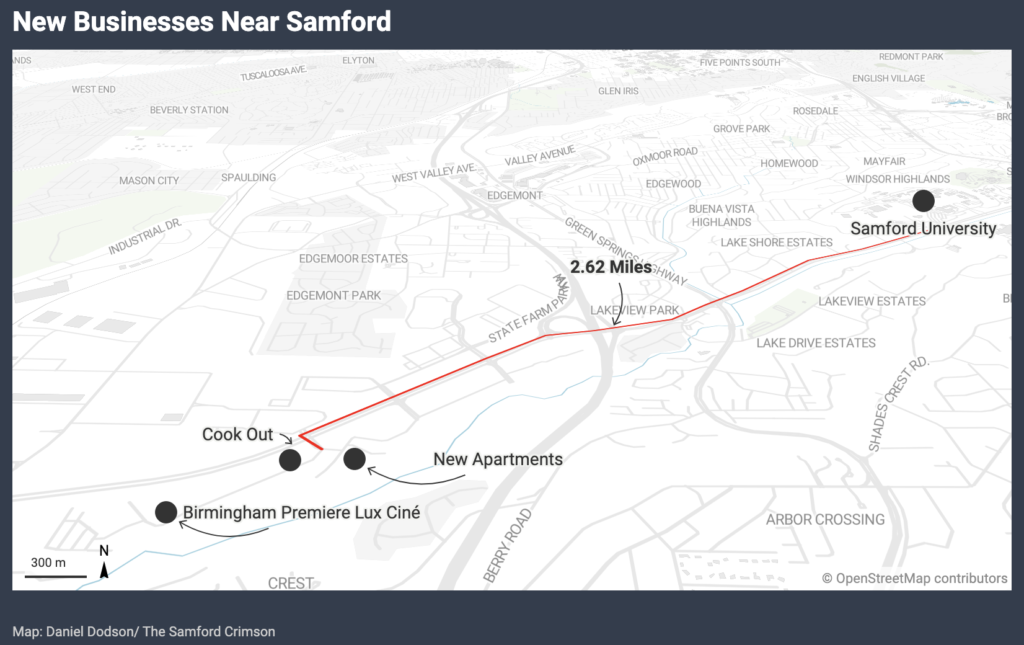 Birmingham Premiere Lux Cine' & Pizza Pub
Birmingham Premiere Lux Cine' & Pizza Pub is a movie theatre that recently opened on the site of the old Carmike Cinema, and more recently Point of Grace Ministries. The theater boasts luxury reserved seating and in-seat dining. The seats will also be equipped with D-BOX simulation, a feature that moves viewers along with the movie to make them feel part of the movie. Construction started in 2018 after the Birmingham City Council appropriated $400,000 to improve access to the building site.
"We would essentially gut the interior and start it over, use the bones of the structure and put a whole new façade on the front. We need to thin out some trees that block the visibility. This will have a totally different feel than anything else you have around here,"Gary Moore, president and CEO of Premiere Cinemas told the Budget and Finance Committee when he shared his plans for the proposed development according to the Birmingham City Council.
Cook Out
Located in the same block, fast-food restaurant Cook Out, is hoping to open their first location in Birmingham on Nov. 15 according to the Birmingham Business Journal. The chain is known for their burgers, milkshakes and barbecue. Birmingham Mayor Randall Woodfin was a strong supporter of the chain coming to Birmingham.
"If CookOut comes to Birmingham, the White House won't be the only government building serving fast food," Woodfin said in a tweet earlier this year.
The chain is also expected to open another location downtown after purchasing property in Southside according to reporting by the BBJ.
New Apartment Complex
Dobbins Group LLC is developing a $46.2 milion apartment complex across from Cook Out. The complex will have 280 Class A units with each unit featuring granite counters, 9-foot ceilings, soaking tubs and walk-in closets. The apartments are expected to range from $1,250 to $2,000 a month. The development will have community amenities such as a saltwater pool, yoga and spin building, fitness center building, car-care center, fire pit, outdoor entertaining areas, and a pet park and spa.