William Marlow / Managing Editor
Samford University hosted an independent TED talk on Feb. 20. The talk included speakers from around Birmingham and topics ranged from finding a purpose to persistence and ways to bridge generational differences in the workplace.

Sarah Ali, founder and CEO of Vijiti, spoke about creating purpose from life's tragedies. In 2017, her brother died after suffering a heart attack.

Ali shared her initial reactions following his death. She often overate and sometimes didn't eat at all. She then avoided social gatherings.

"This person you care so much about has just disappeared, from the planet and from life, and there isn't anything you can do about it," she said.

For months, Ali searched for a way to cope and joined more and more activities to distract her from her brother's death. However, the sadness persisted.

"I realized what I was experiencing wasn't just a moment in time. I was touched by something chronic, something that wasn't fatal but it still felt like it could be," Ali said. "What I tried to do was make grief into something compact, efficient and even logical but it is not."

In December 2018, she volunteered with orphanages in Kenya where she learned many of the children lived on only $1 a day. Oftentimes, these children had to choose between food and healthcare.

In response, Ali founded Vijiti, a nonprofit that delivers medical supplies to developing countries. According to Ali, 3.5 billion people around the world lack access to health services.

"The most sustainable way to overcome this barrier and empowering those around the world is by providing the people we serve with the healthcare they need," she said.

However, Ali views healthcare as more than just doctors and hospitals but also hygiene products such as toothbrushes and soap. For instance, Ali said they deliver soap to schools in developing countries as well as provide menstrual hygiene products for girls and women.

"We provide customizable care packages that range from small supplies for personal hygiene to larger supplies that are specifically meant to mobilize health facilities," Ali said.

Even though she couldn't save her brother, Ali said she had found a way to prevent other families from suffering a similar fate. For Ali, Vijiti is her way to honor her brother.

"I realized that I had the power to prevent another family from experiencing pain and loss similar to mine. This idea changed my entire life and this act of giving helped my healing," she said. "I haven't moved on … but I have taken it and turned it into something good. Although my brother isn't physically here, he is in the work I do with Vijiti and he is in the people I serve."

Besides purpose, Jerell Horton, band director at Vestavia Hills High School, shared that life often requires persistence, something he has learned as a musician.

"The process of becoming a musician is full of success and failure. It's an endless cycle," he said.

Nevertheless, Horton said he doesn't view failure as an indictment against his identity and even stresses the importance of failure in his classroom. Oftentimes, Horton has observed that his students fear making mistakes but said this is how musicians improve.

"As a teacher, I think a lot about making my classroom a place where people can understand that failure is a part of the process," he said. "It's not an indictment on who you are but it is an opportunity to gain the information to get better."

Besides acknowledging failure, Horton encouraged everyone to practice at their craft to achieve success.

Similarly, Ashten Legg, a marketing communications manager for Swagelok Alabama, said embracing a new mindset, specifically, a Millennial mindset, can help college graduates excel in the workplace.

Millennials are defined as people born between 1981 and 1996 and Legg said she often encounters mixed reactions when discussing her generation. Many people either view millennials as entitled, lazy, and unrealistic or as quick, efficient and tech-savvy.

Despite this generation's mixed reputation, millennials now comprise the largest percentage of the U.S. workforce, currently around 50 percent and growing. According to Legg, millennials will make up 75 percent of the workforce in 10 years.

"So, why are we still using common workplace practices that have been around for the past 50 years when the primary working-class demographic is so fresh and new," she asked.

Legg sees a large gap between millennials and the rest of the working population, which she said can be observed by millennials' high job turnover rate. This high turnover cost the U.S. economy $30.5 billion last year.

"Statistics like these can contribute to the negative connotations that many people have with millennials when in fact it can be attributed to a redefining of priorities," Legg said.

Millennials' workplace values have changed. For example, older generations have generally valued a fixed work schedule and a dress code whereas millennials focus more on end results and individual contributions.

"Workplace experts actually say that workaholics are common among 19-35 years old," she said. "Millennials aren't lazy. We are involved and dedicated when it is something we care about."

At the same time, millennials also communicate their expectations more openly and support a healthier work-life balance. For instance, millennials have advocated for more flexible work hours and working remotely.

When bridging the gap, Legg recommends businesses communicate how their service or product positively impacts their community. Millennials also want to contribute their opinions and ideas to a project. Legg encourages cross-training as one example.

"Millennials are driven by impact. We want to feel and know the work we are doing contributes to the bigger picture and how. Millennials place a lot of importance on finding a passion and purpose in life.

Ultimately, Legg said she hopes bridging this gap will help both businesses and millennials be more productive and efficient.

Speaker Melissa Pounce is a speech language pathologist at United Ability. Pounce focused on a younger age group and children with speech differences.

"Your words and how you use them have been defining you since the moment you were born and started building relationships … and then self-advocacy and intimacy," she said.

However, Pouncey said many lack this ability.

"There are those among us who can't participate in that social feedback loop because their mouths, words and voices don't work in the traditional way," she said. "But they are communicators just like every one of us."

Pouncey has helped connect people who have these speech differences with augmented communication devices or AAC, which she said opens up a world where every voice can be heard.

"Communication is an essential part of what makes us people. It is what connects us to one another and every person should be given an opportunity to find that," she said.

Pouncy encouraged everyone to learn more about speech differences and help make these devices available to all children.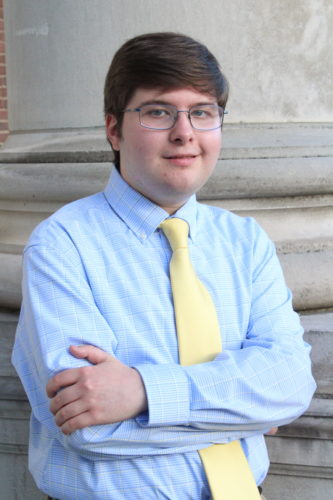 William is our News Editor. He is a Journalism & Mass Communications major from Birmingham, Alabama.