Post-election time of transition, has a different meaning for the members of Samford's Student Government Association. These next few weeks for SGA are to be filled with training and advice from current leaders and elected students who will soon fill their shoes.
Nelson Park, former SGA President, sat down with The Samford Crimson this week to reflect upon his time as a Samford student leader, and offered words of wisdom to both present and future campus representatives.
Like most seniors looking ahead to graduation in just a few weeks, Park also reflects on the memories he made and the experiences that college held for him.
"Bittersweet, that's definitely how it feels," said Park, when asked about nearing the finish line of college and his time in SGA.
While one might assume that being SGA President post-election is a peaceful and uneventful time, Park's experience is quite the opposite as he trains President-elect James Hornsby.
"April is the busiest month of the year for sure," said Park. "There's all the transition work. It would be easy to be lazy, but if what we're doing is truly for the students and for the students that are coming later, then it's worth it to push through and transition and help the new person figure out their role."
Being the face of Samford for the school year comes with major responsibilities and duties, but also exciting and surprising opportunities.
"One of the neatest things about SGA is that you get to talk with people who you disagree with and who think differently from you. It's been neat to learn from other people's perspectives and learn what they have to say," said Park.
Park said he also gained wisdom and expertise from some of Samford's most beloved leaders, including Dr. Andrew Westmoreland and the university administrators. The countless suit-and-tie days and events for Park have lasting perks with the relationships built and leadership skills developed.
"You learn how to have professional meetings, because SGA is the voice of the student body," said Park. "Sometimes there is disagreement and discomfort, but it's good because you get to learn from them and learn how to talk through disagreement with people who've been doing it for years."
As one voice of Samford's student body, Park did not lead and make decisions alone. The nine members of SGA's Executive Board worked tirelessly together to represent the general student body and complete initiatives such as the Honor Pledge. Chief Justice of SGA, Lilla Bea Granger, especially impacted and supported Park during his term as president.
"Especially as someone who is a fellow senior, it's been really neat to see Lilla Bea Granger and the way that she quietly and humbly does what she needs to do day by day for the sake of other people," said Park. "She likes to give people credit for the things she's helped to happen."
Leading SGA comes with its fair share of challenges and obstacles, and Park offered valuable advice to students who aspire to be leaders on campus, whether it's through student government or any other outlet. Doing what is right and facing challenges instead of taking the easier path are some  key lessons Park took away from his time as president.
Park's advice to student leaders is about integrity and peer pressure.
"I would say (knowing) the importance of doing what's right versus doing what's popular. A lot of times it's really hard to do what you know is the right thing versus what other people are pressuring you to do or the easy solution for the moment. I think one of the best lessons I've learned from SGA is that it's so much better to make a harder decision now than to make an easy, short-term decision and then deal with the consequences in the long term. I think that's hard for our generation in general to figure that out and to work through that."
Park humbly hopes to leave a lasting footprint for future Samford students. As a member of both the student body and the student government, Park shared  his unique perspective on what it means to leave a true legacy at a school like Samford.
"I'm always struck by that great quote from Dr. Westmoreland about how 'We sit in the shade of trees that we didn't plant,"' said Park. "I would hope that that phrase sums it up for me. A lot of times in SGA we get focused on the gold peak, like when you build a pyramid everyone wants to be the one who puts the shining gold peak on the top, even if it's a nameless thing, I would rather be the base of the pyramid than to be the one who is there to put the gold peak on the top."
Future SGA leaders have big shoes to fill with leaders like Park coming before them. Thanks to the purposeful work of Samford's Executive Branch this year, future Bulldogs may sit in the shade of new "trees" through the Honor Code and other implemented initiatives.
The Samford Crimson and the student body wish Park the best as he begins a new chapter of life and opportunities in May.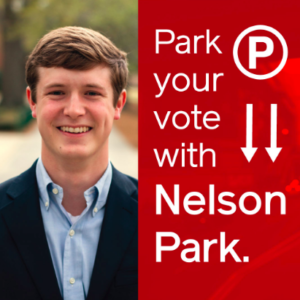 Carol Graffeo, Features Writer
[photo courtesy of Nelson Park]