Lynnette Miner, staff attorney from the Southern Poverty Law Center, and Cumberland law professor John L. Carroll discussed Alabama prison reform as part of a panel in Brock Forum on Monday, Sept. 23.

Carroll helped address prison issues in the 1970s and '80s while working with the Southern Poverty Law Center. He said Alabama addressed these issues in the 1980s, but that Alabama's prisons once again face similar issues — mainly overcrowding, violence, and staff shortages .

According to Miner, one major issue concerns inmates' medical care. In January 2019, Minor began working on Braggs v. Dunn, the most recent federal lawsuit challenging the Alabama prison system. The case was filed in 2014 and argues that all 15 Alabama prisons failed to provide adequate medical and mental health care for inmates.

"People could not get treatment for serious medical issues, sometimes for years. The result is at times patients have died because of the quality of care in prisons," she said.

According to Miner, inmates' mental health is especially critical due to the high sucide rate among Alabama prisoners. Alabama prisons intensified this crisis by ignoring proper sucide prevention protocols.

"During the trial, we had a number of clients testify, and early on, Jamie Wallace testified his struggled to get care when he was suicidal. Just being in the courtroom was a difficult experience for him," she said. "He had to be sent out to a private location to reset and recover and he actually committed sucide a couple days after he testified."

In 2016, after a lengthy trial, U.S. District Judge Myron H. Thompson ruled that Alabama's prisons were inadequate and violated the U.S Constitution's 8th Amendment, which prohibits cruel and unusual punishment.

"It's a really difficult situation to wave through and all the more difficult to know that it's something that is not a new problem. It's decades in the making," she said.

According to Miner, Alabama prisons are flawed from the moment someone enters.

"Basically from the moment someone enters for that initial intake process … to treating people, planning out a treatment plan and giving care. When someone needs patient care or need to go to a mental institution, that process was just nonexistent,"she said. "That was unconstitutional."

Oftentimes, these prisons failed to screen inmates for mental illnesses or other health problems.

"When someone enters, they need to go through an intake process to identify what serious mental illnesses they might have and general health conditions. There is an orientation process to prison," Miner said. "That process is fundamentally flawed."

Rather than diagnosing and treating inmates with mental illnesses, the prisons just isolated these inmates.

"The Alabama Department of Corrections was using segregation essentially to house mentally ill patients. Segregation will only worsen people who have mental illnesses," she said. "It would worsen any of us to be isolated in a space with no human contact for days, weeks, months and sometimes even years on end."

After the trial in 2016, Miner said she has focused on how to remedy these violations but it has been a slow process.

"Because the case was so massive and because so many parts of this system are failing in terrible ways, Judge Thompson split up the remedial process to deal with each of these stages one at a time," she said. "So, there have been a series of trials and agreements to try to reach some kind of path forward on what Alabama will do to fix these harms."

However, while these trials occurred, 15 inmates died by sucide over a 15-month-period — making the Alabama prison sucide rate jump three times the national average.

"There are a number of instances where ADOC even since then has failed to address suicide prevention. In response to that, we couldn't just wait for the trial on sucide prevention remedies so my colleagues filed an emergency motion seeking immediate relief on suicide prevention," she said.

For instances, Miner said there have been a number of cases where someone had attempted sucide and correctional officers did not intervene for several minutes.

"In many cases in the Alabama prison system, there has been no immediate intervention so we actually needed a court order to tell the Alabama prison system to intervene," she said.

Alongside the SPLC's lawsuit, U.S. Department of Justice disclosed this spring that it had been also investigating Alabama prisons and specifically the increasing violence in the prisons. The Justice Department had been investigating inmate on inmate violence as well as officer on inmate violence.

"We are trying to put pressure on this in the form of ligation on the state to make changes. Well, now there is this extra pressure from the federal government and ADOC is now negotiating with the federal DOJ while with us," she said.

According to Miner, this pressure has prompted Alabama lawmakers and Governor Kay Ivey to act. Ivey has suggested building three new prisons to tackle overcrowding.

"We tend to think that is a short-sighted view of what needs to happen and doesn't actually address the thousands of people in the system now who are not being treated humanely or with decency," she said.

Besides proposing more prisons, Governor Ivey has also created a study group comprising Alabama's attorney general and other legislatures who will study Alabama prison issues. According to Miner, this group may help draft policy during Alabama's next legislative session in February 2020.

"We believe there will be more policy movement in the next legislative session. There has been talk about a possible special session to be called on prisons but we are not sure when that would be called," she said.

A federal court order has also required Alabama to hire 2,200 additional correctional officers by 2022. During the last legislative session, Alabama lawmakers passed a bill raising correctional officers' pay with the hope that it will provide incentive for people to apply.

According to Carroll, many of these prison issues stem from overcrowding, which has strained Alabama's prison system. The number of inmates currently housed in the Alabama prison system is around 20,000. However, the system was designed to house only 12,000.

"I trace a lot of this to the War on Drugs in the 1980s when we decided we were going to incarcerate people that committed non-violent drug offenses. We have a lot of people in prison who simply do not need to be there," he said.

Ultimately, Carroll said he hopes that recent strides will help improve Alabama's prisons.

"We are back in that cycle again in which the prisons are terrible. The hope is though that the government, unlike Governor Wallce in the '70s, is not going to fight tooth and nail but is going to try to come up with reasonable solutions," he said.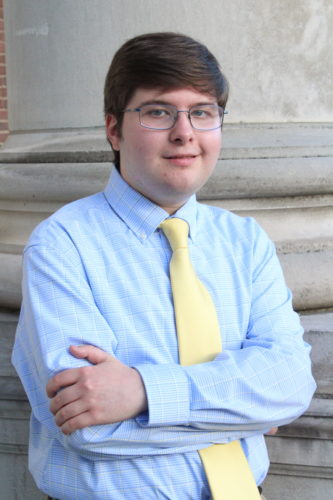 William is our News Editor. He is a Journalism & Mass Communications major from Birmingham, Alabama.