On Saturday, Nov. 2, two protests took place in Tuscaloosa, Alabama while President Donald Trump attended a college football game.
Trump announced late last week that he would travel to Alabama for
the highly-anticipated game in which 3rd-ranked Alabama would face off against 2nd-ranked Louisiana State University.
Trump's visit came on the heels of him being booed at Game 5 of the World Series, and at a UFC event in New York City earlier this month. However, the president was met with applause and cheers during the game. Trump won Alabama by double digits in the 2016 U.S. presidential election. However, not everyone at the game was a fan of the president.
Demonstrations were held at the surrounding parks near Bryant-Denny Stadium, where the game was held. Lee Bains III, a Birmingham native and one of the protest's organizers, led the first demonstration at Annette N. Shelby Park. Bains along with other protesters drove near the stadium in vehicles plastered with anti-Trump signs.


Bains is the founder of the local rock band Glory Fires and his band has routinely criticized the Trump administration and those the president supports.
In 2017, Bains protested against Former Alabama Chief Justice Roy Moore's U.S. Senate candidacy by driving around Birmingham and Gadsden in trucks plastered with Democratic Senator Doug Jones' campaign signs.
"We have been pretty strident as a band and I have also been as a songwriter against Trump and his policies," he said.

Considering it was a major game day across the state, Bains said the crowd size at the protests surprised him and said he had encountered people from all over Alabama.
"What I saw exceeded my expectations, in particular by the number of people who showed up to participate and once we started, reactions were mixed," he said
Although, Trump won Alabama by large margins in 2016, Bains said the crowd size at these protests suggest that the state is not as unified as it is commonly portrayed in the media.
"I think a lot of times, Alabama and the Deep South are portrayed in the media as very monolithic and simple. Alabama did overwhelmingly go for Trump in the 2016 election, but there were also a lot of Alabamians that voted against him," he said.
Eventually, the protesters converged at Monnish Park for a second demonstration. This protest included a large baby Trump balloon and people waved signs mocking Trump. Protesters also chanted for Trump's impeachment as game attendees drove past.
Tim Majors, an activist with BhamStands, said many of the protesters were out denouncing Trump's policies and rhetoric.
"The President of the United States was recently booed at a Nationals baseball game so he wanted to come to this game to hear some cheers. So, people have brought signs, protested and brought a baby Trump balloon to let him know even in the south, people still dislike racism, sexism and fascism," Majors said.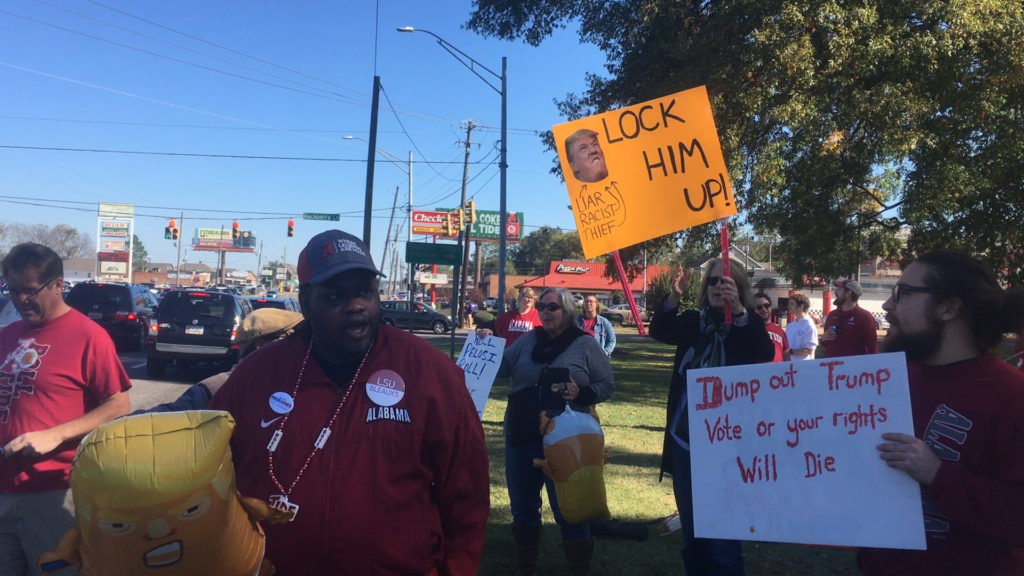 Majors said he had encountered both Trump's supporters and those who oppose the president.
"It has been a combination along stereotypical lines like some white men in trucks have been sounding their mufflers off at us while other people tended to cheer but there are a lot of people also who have not shown their love as well," he said.
Tensions eventually became heated when a man slashed the Trump balloon and then fled the scene. According to Tuscaloosa police, the incident occurred around 1 p.m. on Saturday and the man was apprehended shortly afterwards.
Police released a statement identifying the man as Hoyt Deau Hutchinson. Hutchinson, 32, is a Tuscaloosa local. According to the police's statement, Hutchinson has been charged with first degree criminal mischief and is currently free on a $2,500 bond.
According to Bains, these types of acts are common fears at protests since the 2017 "Unite the Right" rally in Charlottesville, Virginia. At that event, white supremacist James Fields Jr. drove his car through a crowd protesting Confederate statues. Two dozen people were injured and one protester, Heather Heyer, was killed.
"That stuff is alarming. It was alarming when that white supremacist murdered somebody like Heather Heyer who was marching for equality with other Southern folks of all different ethnicities and backgrounds in the streets of Charlottesville," Bains said.
These incidents remind Bains of growing up in the aftermath of the Civil Rights Movement.
"Being from Birmingham, I grew up among the ghosts of saints who did the exact same thing Heather did, who marched for the overthrow of an immoral system in the form of Jim Crow and many of them died for that," he said."I met people growing up who had scars on their bodies from where police dogs had attacked them who got sicked on them by people in power and authority."
However, Bains said he believes these acts will not define these movements.
"It is alarming to see these things happening but at the sametime I'm thankful to have seen these struggles over time and I do believe the people will win and goodness will win," he said.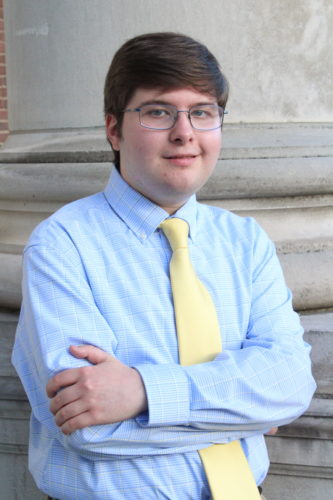 William is our News Editor. He is a Journalism & Mass Communications major from Birmingham, Alabama.