Mackenzee Simms / Contributing Writer
Students in the garage of the Art Lofts don safety goggles and gloves as they huddle around a cooling forge, waiting for the jet engine-like roar of the flames to subside in order to hear announcements. Introductions are made, rules are covered and safety requirements are laid out. No, you can't wear Chacos in the shop. Yes, gloves must be worn at all times. No, you can't heat up your Moe's queso with the forge. This is the inaugural meeting of the Blacksmiths of Samford University and the students couldn't be more excited.

The creation of the Blacksmiths of Samford University has been a long journey. Club President, Joshua Marvel, began the process of founding the club a year and a half ago.

"I started blacksmithing during my junior year of highschool and I really enjoyed it; but when I got to college, I realized that I really missed it," Marvel said, "In Foundations class first semester, a girl comes up to me and says 'hey you should make a club if you like it so much' and I was like, 'huh that's a pretty good idea.'"

Marvel admits that he initially had trouble, but cites the aid of his friend Chandler Crews, now the club's Vice President, as a turning point in the process. Marvel was talking to Crews one day about how he needed a club treasurer, at which point Crews volunteered for the job.

"[Chandler] just goes 'Stop. Say no more. I'll make you a spreadsheet'," Marvel laughed. "I was like alright that's gonna take about a week. Two hours later, I get a spreadsheet in my email with everything we need budget-wise. At that point things started picking up."

When they're first starting, club members work in pairs. After one holds the steel in the forge until it turns an incandescent orange, they'll move the steel to the anvil and hold it flat, flush to the surface. Their partner will hammer the metal as they hold it in place. At this point, club members are crafting key chains to learn the basics of blacksmithing but the goal is for the members to be able to make damascus steel by the end of the semester.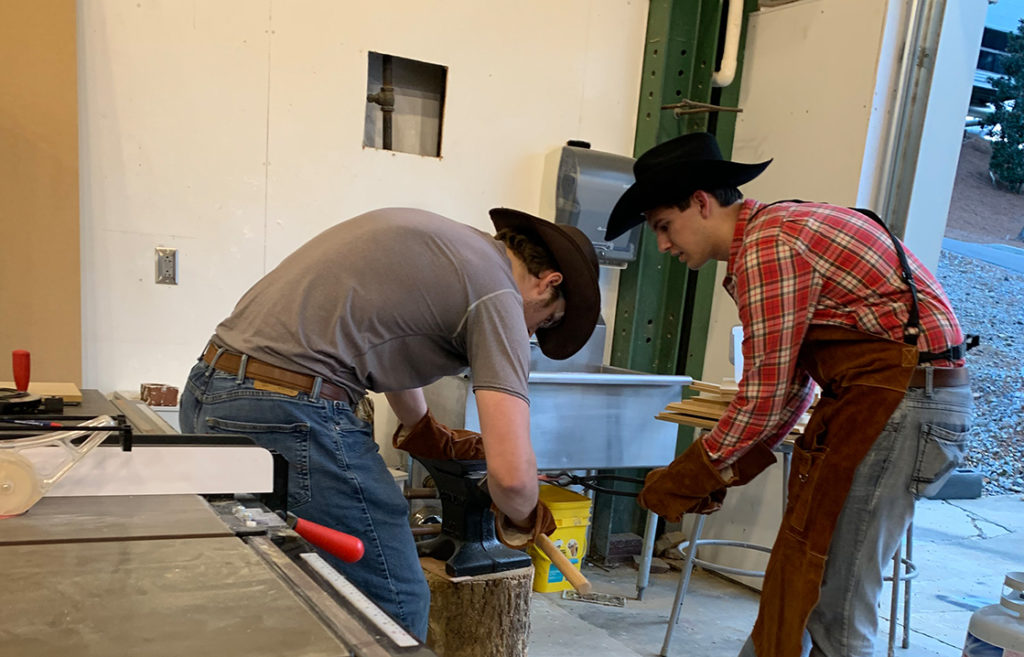 Marvel described damascus steel.

"It's multiple layers of steel that you forge-weld together, you don't actually weld it, meaning you heat it up all the way then hammer it down, so it will all become one piece," he said.

In addition, Marvel said he hopes that the club will be able to create small items to gift to Samford donors and alumni.

"Like a decorative, dull sword, a small knife, or a ring or something," Marvel said. "Hopefully within a year with practice everyday people will get to that point where they can start making more and more stuff."

The Blacksmiths of Samford University has meetings every Tuesday, Wednesday, and Thursday from 5 to 7 p.m. in the garage of the Art Lofts. For more information, students can visit the Blacksmiths of Samford University's Org Sync page.