Written By Andrew Simonson for SNN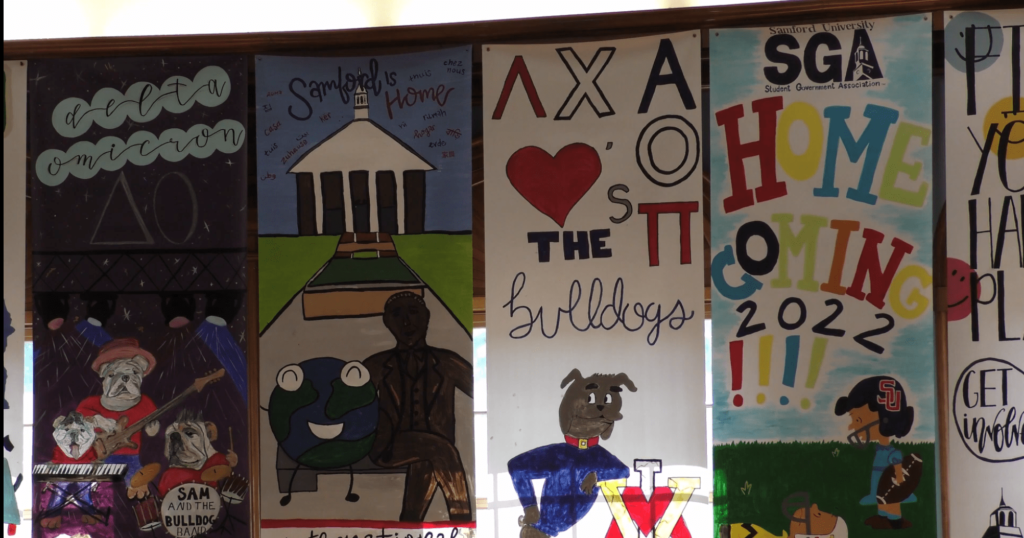 Homecoming is a celebration of many things: fall, friends, football and all of the things that make Samford home to so many people.
The homecoming banners are an annual showcase of these themes and so many more as students get to display their creativity and love for Samford.
Every year, each student organization has the opportunity to paint a large banner to celebrate homecoming.
The banners are then displayed in the cafeteria alongside the other banners before each organization displays them at their homecoming football tailgate.
The process started a couple weeks before homecoming when students created their banner designs.
"We kind of sketched everything out on one afternoon, just everything in pencil, and then we took two, maybe three nights and just started painting, and it took a couple of hours," said Emily Morgan, Alpha Omicron Pi's tailgate chair who created the banner together with Lambda Chi Alpha. "It was definitely a lot of work, but it was really fun in the process doing it. We kind of just played some music and jammed out, so yeah, it was fun."
Previously, students decorated large boards that were displayed in Ben Brown Plaza. The designers assembled their boards in Ben Brown and students could see every step of the design process as they walked through the plaza.
The Student Activities Council decided to make the change to banners this year, and while some missed seeing the boards while they were still works-in-progress, others, like SGA press secretary Callie Morrison, enjoyed working in a smaller space with her public relations team.
"Everyone loves the boards a lot, and it's a pretty cool bonding experience, just being out on Ben Brown, but the banners were something different, and they were a little bit more close quartered, so it was fun to just be in the room with the same people and just talking to them," Morrison said.
SGA's banner was a recreation of the iconic scene from A Charlie Brown Thanksgiving when Lucy pulls the football away from Charlie Brown as he kicks it, with Lucy donning a Samford helmet and Charlie Brown lying on his back in a VMI helmet.
AOPi and Lambda Chi went for a vintage bulldog design, as Morgan said the vintage style was very popular right now. Her fellow tailgate chair Gabby Hampton enjoyed being a small part of a great Samford tradition and to display the chapters' love for their university.
"I think it just showed that AOPi really supports Samford and football, and it showed that we could work really good [sic] together with Lambda Chi and it was fun to just to be represented up with all the other banners," Hampton said.